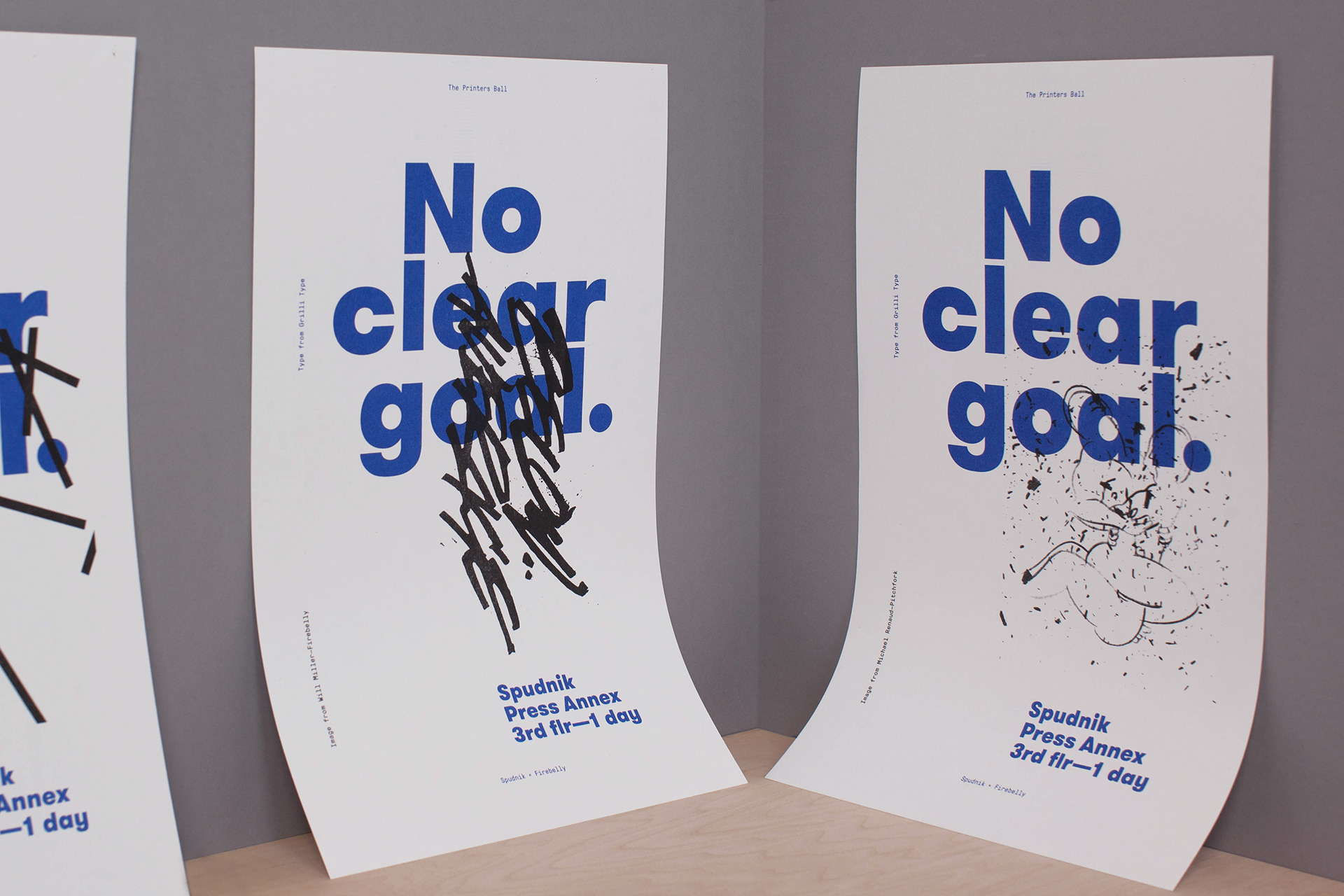 When Chicago's community-based art center Spudnik Press reached out to Firebelly for an activity during the Printer's Ball event, Nick Adam was tapped to create a interactive workshop, a gallery exhibition of work, and a print campaign the publicized the event and welcomed the design community to a design workshop of collaborative making.
Fascinated by the passed over concepts, early ideas, and experimental image making that a design process brings into the world this workshop explored designer transparency and and equality trough communal making.  

Prior to the workshop, a library of logos, patterns, type, and artwork — that for whatever reason, never went further than process work or an initial presentation — was assembled as resource to use and explore. Workshop attendees were also invited to bring examples of their early work and with our collective library they'd recontextualize the work while also learning how to use a Risograph.
Wanting the exhibition poster to be true to the brief that others had met, the designed intention was to serve as an example of what participants could expect to create in our time together. As well, it needed to be representative of work that occurs early in my process. So I approached the poster in the way that I begin most projects—spacial relationships with meaningful type selection. To stay true to the brief, I stopped, made a proof, and began utilizing the library of images to assemble a series of veritable posters upon the Risograph's scanning bed. 
This process of collage, deconstruction, and appropriation provided context and contrast to see how, as graphic designers, we have both similarities and differences. We'd also revisit the approach of graphic designer as an assembler of existing material. Purely as form through play, participants gained an heightened awareness to the depth of different designers' processes. The hope being that the more we understand another person the better we may understand ourselves and, in this context, the breadth of our field.